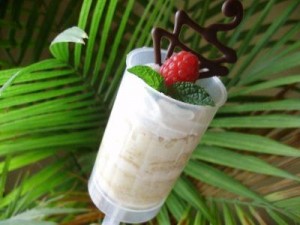 Tres Leches cake also known as three milks cake is a rich cake that is becoming more and more popular throughout the world.
There is quite a bit of discrepancy about where the cake actually originated from but from most articles and research on this amazing dessert, we have found that the origination is South America. No matter where it originated from, it is absolutely delicious!
Here we show a very simple way to create an unorthodox version of the Tres Leches cake but the results are fantastic. We will include a link for the entire recipe of the standard Tres Leches cake that comes from  El Salvadore. The original recipe can be a bit time consuming, so this recipe and make up proceedure will save you quite a bit of time.
What you will need to create the simple Tres Leches Push-up Pop Cake:
1 box vanilla cake mix
Whip cream
Liquid flavored coffee creamer
Fresh fruit (optional)
Chocolate and mint leaf to garnish (optional)
Push Pop Containers
Push Pop Container Stand
Pastry Bag and Tip
Jelly roll pan
Prepare cake batter and pur into a jelly roll pan. Bake at 350 f. for aproximately 18 minutes or until toothpic comes out clean.
Let cake cool. Once your cake has cooled, use the top of a push pop container to punch out cake circles as shown here:
Next, using a wooden skewer, punch holes in each cake circle. You can do this while all the cake circles are in the pan.
This picture shows how it should look. You will want many holes in each cake circle.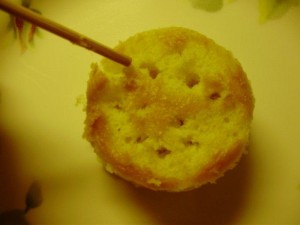 Have your push pop containers pre-assembled and begin the layering of the cake, creamer or three milks recipe, whip cream and fruit. Start by pouring a bit of creamer into the base of the push pop container.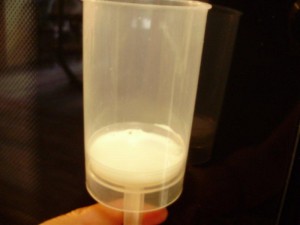 Next, place one cake circle on top of the creamer or three milks. and then pour more creamer or three milks over the cake circle to saturate. The milks should soak in quickly into the cake holes.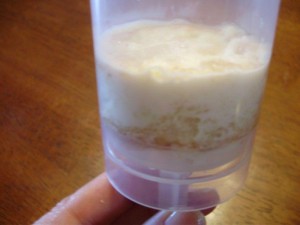 Next, pipe in the whip cream on top of the soaked cake layer and place a thin layer of fruit on top .
Repeat process until the push pop containers are full.
Garnish as you like. Either simple or with flair!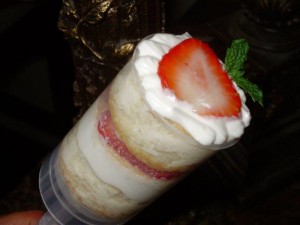 Here is a quick video on how to create the simple push up Tres leches cake using the creamer.
Tres Leches Push Pop Cake Video:
Tres Leches Cake Recipe – Decorated Cupcake Ideas
Tres Leches Cake Recipe also known as the Three milks cake is shown here using an authentic Tres Leches cake recipe from my private collection.
Publish Date: 07/06/2011 15:32
http://decoratedcupcakeideas.com/tres-leches-cake-recipe/